Institut für Experimentalphysik I
Experimental Hadron Physics
Prof. Dr. Ulrich Wiedner
Contact
Ruhr-Universität Bochum
Experimentalphysik I
NB 2/131 / Fach 125
Universitätsstraße 150
44801 Bochum
Germany
Phone.: +49 234 32-23561
Fax: +49 234 32-14170
E-Mail: email hidden; JavaScript is required
Prof. Dr. Miriam Fritsch
---
Important information for the teaching in the online semester: Please sign in for the lectures within eCampus. For the seminar please send an E-mail to the teacher. Further  information for the lecture nuclear and particle physics II.
---
Exkursion
zum Europäischen Forschungszentrum
CERN in Genf
Due to the current situation the excursion is cancelled. 
Vom 7. bis 9. Mai 2020 wird wieder eine Exkursion für Physik-Studierende der RUB zum CERN (Schweiz) angeboten. Besichtigt werden Experimente zu aktuellen Fragestellungen der Teilchenphysik.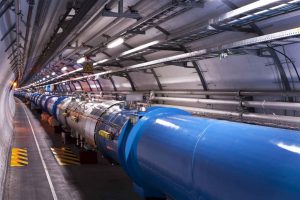 Der Kostenbeitrag beträgt 75,00 Euro. Eine entsprechende Rechnung wird nach erfolgreicher Anmeldung zugesandt und gilt gleichzeitig als Teilnahmebestätigung.
Interessenten können sich hier über Moodle anmelden.